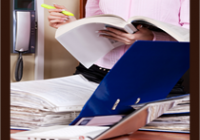 Whether you need a vocational assessment in a personal injury, worker's compensation, medical malpractice, auto accident, disability or employment law case, we have the expertise. Our consultants have years of vocational expertise and the testifying expertise to help you present your case in court.
When do you need it?
If you have an injury case with an impact to earnings you need to consider a vocational assessment. Whether your client can't return to work or is experiencing reduced earnings, a vocational assessment can provide a thorough analysis for the case. Our team of experts will assess the work history and skills and evaluate the impact of the disabling condition on the ability to work.
In addition to our analysis, all of our consultants work as Social Security Vocational Experts and have years of testifying experience. Our depth of experience lends to our credibility and approach in dealing with a variety of legal settings